I am joining Hilary from
Feeling Beachie
on her weekly hop -
Check it out if you want to join the fun!
My answers are underlined.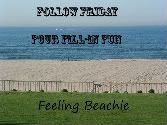 ">
1. When I
am really tired
I
get cranky...but seem to have the hardest time falling asleep!
2. I wish I was
a happier person who liked to socialize.
3. If the world is my oyster then
I want to be The Black Pearl (seriously - who wouldn't want to be the most feared ship on the high seas?)
4. My favorite meal of the day is
none
and the food I think would be my favorite to eat then would be
---- I was once told there are people who live to eat that there are people who eat to live. I am definitely one of the latter - food is not a big part of my life whereas my kids LOVE it!