Today is Shop Hop Saturday with abitosunshine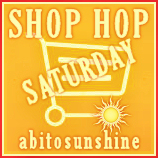 This is a weekly hop by Ruthi Cox aka
abitosunshine
at Poetic Creations by abiosunshine. It is a hop where we get to boost each other along to say what we have done in the past week about our business ventures and what are plans our for the next week.
I always start off each week with a bit about my online Review business
Reviews4Reviews
. I have been gathering author interviews to post as a part of our Review the Author series and will be posting a brand new one on our
blog
tomorrow. After that I will create a new lens on Squidoo as well. I have found that Squidoo is bringing new eyes to our existing site and hopefully in the long run that will increase our business.
I also started a new hop myself. It is on Thursdays
Pondering with a Purpose
. I will give a prompt each week and then bloggers blog about it and hop along.
This was our second week and we actually had a new hopper this week! It's not too late to hop along.
Also, I have been hopping along with the book blogger hop and hopping through to new blogs and found another author - she's in Australia - Snooz - she hopped back to me and who knows? Maybe we'll become - cross national blog buddies!
So as for this coming week - I have two new review the authors to put up -
Disrupted Lives is done and layed out - only need the cover to be done (that's big!)
I have arranged for the ARC to be reviewed - stay posted for updates on that!
I'm sure there will be more lenses up on Squidoo . . .
Oh yeah !!!
Congrats Ruthi on the job!